While staying on or near the Island, you will find plenty of Galveston attractions for tourists of every age. Here are a few of our favorite hotspots in Galveston, Texas.
Vacationing or business, Galveston has entertainment, food and history to keep you busy or just relaxing on the beach. If these are not enough for you, there are many events and festivals throughout the year.
Here are some of our top picks on what to do in Galveston.
Galveston Beaches and Waterfront Entertainment
Enjoy the beach at both Stewart Beach, East Beach and pocket parks along the coast.
Ferry rides from Galveston to Bolivar Peninsula are a must for kids and adults alike. Be sure and watch for the dolphins that are known to escort the Ferry.
Pleasure Pier on Galveston Seawall
Walk along the seawall, rent bicycles, or visit the new entertainment pier full of rides, restaurants and more. You are sure to see people fishing, putting their toes in the sand or enjoying the favorite outdoor activities.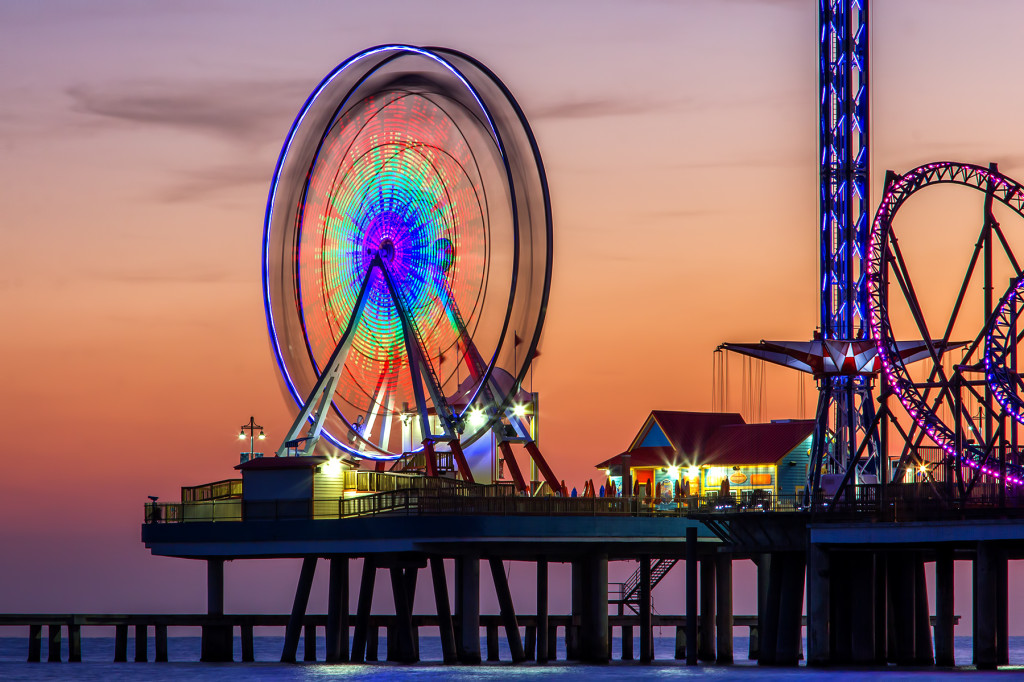 Moody Gardens Attractions
More than just gardens, the iconic Pyramids of Moody Gardens Visitor Info include an aquarium, rain forests and special exhibits including a 3D theater. Holidays include lighted tours and a full calendar of events throughout the year.
Historic Homes and The Strand in Galveston
Galveston has a rich history of homes, many that have stood through some of the most historic hurricanes including the 1900 hurricane. For more information, visit the Galveston Historical Foundation and learn about their Home Tours.
Pier 21 is the home of Elissa and the Texas Seaport Museum.  
The 3 masted sailing ship is one of only a few still operating Tall Ships that makes her home in Galveston. Located a short walk from The Strand, visit for tours and a bit of maritime history.
Getting to Galveston from Houston via Transportation
To schedule your ride to and from Galveston and Houston, Book an Island Breeze Shuttle or call our offices at 409-770-0100 for more information. We specialize in bringing visitors to the Port of Galveston Cruise Terminal, hotels and convention center and back to the Houston airports. Let us know when you plan to visit!